On day 117 of my 365 project I tried this amazing chocolate lava cake recipe for the first time. My friend Sara introduced me to it, and I just had to try it out (can't go wrong with chocolate, right?). Not only is Sara a great friend, she makes a-ma-zing cakes. Really, amazing! She writes about them on her blog so be sure to check her out! I wanted to share this incredibly easy recipe with you to spread the chocolate lava cake love a bit :) It's pretty much foolproof and makes a great Christmas dessert.


This recipe is enough for two servings
(or three, if you can stop yourself from eating the batter.. okay two servings!)

Ingredients

100 gr. butter
100 gr. dark chocolate
2 eggs
2 or 3 tbsp icing sugar
1 heaped tsp flower
2 ramekins






Preheat the oven to 160 degrees celcius.

You could grease the ramekins a bit if you're planning to remove the cakes, but I usually eat them straight from the bowl.

Dice the butter and chocolate, this will make the recipe even easier to make! Now take a bowl and melt the chocolate and butter au bain-marie.





In another bowl whisk together the eggs and icing sugar. Whisk until the mixture starts foaming slightly, this should take about two minutes.

Now gently add the chocolate mixture to the eggs and stir together. You can now mix in the sifted flour give the batter its last stir. Pour the batter into the ramekins, making sure you don't fill them up too high (3/4 max). Place in the preheated oven for about 10-12 minutes. The cake should still be a bit runny in the center.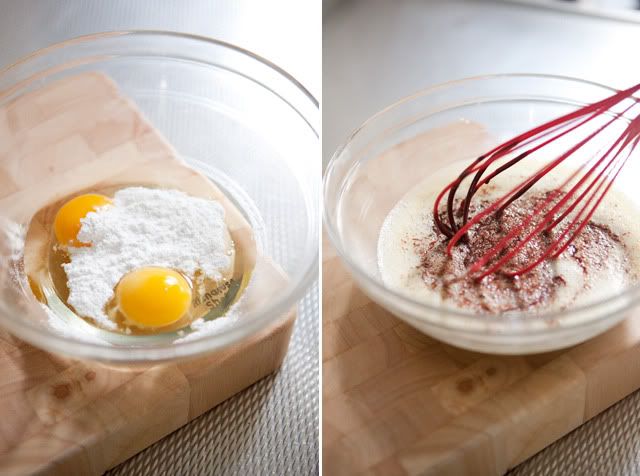 See, I told you it was easy :) Thank you Sara!

Enjoy!